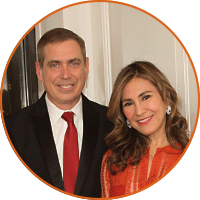 Hosts
Maria & Kenneth Fishel
Kenneth, CEO of family-run New York based luxury real estate agency Renaissance Properties, and wife Maria, a prominent socialite, arts patron and philanthropist, are dedicated to charitable giving through numerous arts, animal rights, health-related, and civic improvement causes.
Since 2009, the Fishels have been strong supporters of the Samuel Waxman Cancer Research Foundation, where they have been instrumental in raising funds to help minimize and eradicate the scourges of cancer. A longtime staple of the Hamptons, the Fishels have also hosted three of the tennis matches for the Charles Evans ProAM Tournament as part of the Annual Prostate Cancer Foundation (PCF) benefit at their 16-acre Bridgehampton estate. Among some of the other charities they have been involved in are Chabad Center for Jewish Life, Ovarian Cancer Research Fund Alliance, American Society for the Prevention of Cruelty to Animals, The PAW Project, NoHo Business Improvement District and the Lincoln Center Corporate Fund.
Kenneth serves on the boards of Samuel Waxman Cancer Research Foundation, Community Housing Improvement Corporation and Noho New York Business Improvement District.
As philanthropists, not only are the Fishels grateful for the opportunity to serve and contribute to so many worthwhile organizations, they are also proud to pass along this tradition to their two children, Melissa and Bradley. The Fishel children are defining the next generation of philanthropy by serving in the Millennial Society of the SWCRF. Melissa has worked closely with the Samuel Waxman Cancer Foundation Research team, and Bradley Fishel participates in the PCF Benefit ProAM Tournament where he gains millennial support from his peers.

Michael & Lyanne Saperstein

Matthew Simon & Brooke Goldstein
Brooke Goldstein is a New York City-based human rights attorney, author, and award-winning filmmaker. She serves as Executive Director of The Lawfare Project, a nonprofit organization dedicated to raising awareness about and facilitating a response to the abuse of Western legal systems and human rights law. Brooke is also the founder and director of the Children's Rights Institute (CRI), a nonprofit organization whose mission is to track, spotlight, and legally combat violations of children's basic human rights around the world. CRI has a special focus on the state-sponsored indoctrination and recruitment of children to become suicide-homicide bombers, child soldiers, and human shields.
Brooke's first book, co-authored with Aaron Eitan Meyer and entitled Lawfare: The War Against Free Speech: A First Amendment Guide For Reporting in an Age of Islamist Lawfare, gives practical guidance to journalists who wish to speak truthfully about the national security threats faced by liberal democracies. The book is available here.
Brooke's award-winning documentary film, The Making of a Martyr, uncovers the illegal, state-sponsored indoctrination and recruitment of Palestinian children for suicide-homicide attacks. Filming Martyr, Brooke secured firsthand interviews with active and armed members of the Al-Aqsa, Fatah, Islamic Jihad, and Hamas terrorist groups as well as with families of suicide bombers, children imprisoned for attempting to blow themselves up, teachers at terrorist-run schools, and others involved in the phenomenon of child suicide bombing. Martyr is currently broadcast on television stations throughout the globe and is ranked as IMDb's seventh most popular title on the West Bank.
Brooke is a regular commentator on FOX News and has been featured in several media, including CNN, The New York Sun, Swindle Magazine, Defense Technology International, and on WABC News Talk Radio, and has been published in a variety of sources, including the New York Daily News, Commentary Magazine, The American Spectator, The Counter Terrorist Magazine, Special Ops Magazine, and others. She also hosts the television series Outspoken on Jewish Broadcasting Service (JBS).
Brooke is a seasoned public speaker and has lectured and taught seminars at numerous schools, including the Benjamin N. Cardozo School of Law, New York University, Berkeley University, Stanford University, and others. Brooke has also been invited to brief government officials at the U.S. State Department, the White House, the Pentagon, the U.K. Parliament, and U.S. Central Command on issues of asymmetric warfare and human rights.
Brooke is the 2007 recipient of the E. Nathaniel Gates Award for Outstanding Public Advocacy and the 2009 Inspire! Award bestowed by the Benjamin N. Cardozo School of Law, was listed in 2009 as one of "36 Under 36 Young Innovators" by the Jewish Week, formerly served as an adjunct fellow at the Hudson Institute, and is currently a Term Member at the Council on Foreign Relations, an associate fellow at the Henry Jackson Society, a Lincoln Fellow at the Claremont Institute, a member of the Scholars for Peace in the Middle East's (SPME) Council of Scholars, an advisory board member of Belev Echad Charity, and a board member of The Mideast Reporter. She is also a recipient of The Blue Card's 2016 The Irene Hizme Tikkun Olam Award, the UJA's 2017 Defender of Israel award, and Belev Echad Charity's 2015 Pillar of Courage award.
From 2007-2009, Brooke served as director of the Legal Project at the Middle East Forum, an organization that arranges financial support for and pro-bono legal representation of persons wrongfully sued for exercising their right to free speech on issues of national security and public concern.
Additionally, Brooke is the co-founder of A2B Film Productions, Inc., a Canada-based independent documentary film production company focused on creating films that explore issues ignored by the mainstream media.
Canadian born, Brooke earned her B.A. from McGill University and received her J.D. from the Benjamin N. Cardozo School of Law. She also attended Columbia University and University of Toronto's exchange programs.

Humanitarian Award
The Kaufman Family
In tribute to the life and legacy of George S. Kaufman