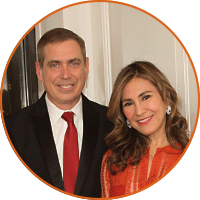 Hosts
Maria & Kenneth Fishel
Kenneth, CEO of family-run New York based luxury real estate agency Renaissance Properties, and wife Maria, a prominent socialite, arts patron and philanthropist, are dedicated to charitable giving through numerous arts, animal rights, health-related, and civic improvement causes.
Since 2009, the Fishels have been strong supporters of the Samuel Waxman Cancer Research Foundation, where they have been instrumental in raising funds to help minimize and eradicate the scourges of cancer. A longtime staple of the Hamptons, the Fishels have also hosted three of the tennis matches for the Charles Evans ProAM Tournament as part of the Annual Prostate Cancer Foundation (PCF) benefit at their 16-acre Bridgehampton estate. Among some of the other charities they have been involved in are Chabad Center for Jewish Life, Ovarian Cancer Research Fund Alliance, American Society for the Prevention of Cruelty to Animals, The PAW Project, NoHo Business Improvement District and the Lincoln Center Corporate Fund.
Kenneth serves on the boards of Samuel Waxman Cancer Research Foundation, Community Housing Improvement Corporation and Noho New York Business Improvement District.
As philanthropists, not only are the Fishels grateful for the opportunity to serve and contribute to so many worthwhile organizations, they are also proud to pass along this tradition to their two children, Melissa and Bradley. The Fishel children are defining the next generation of philanthropy by serving in the Millennial Society of the SWCRF. Melissa has worked closely with the Samuel Waxman Cancer Foundation Research team, and Bradley Fishel participates in the PCF Benefit ProAM Tournament where he gains millennial support from his peers.